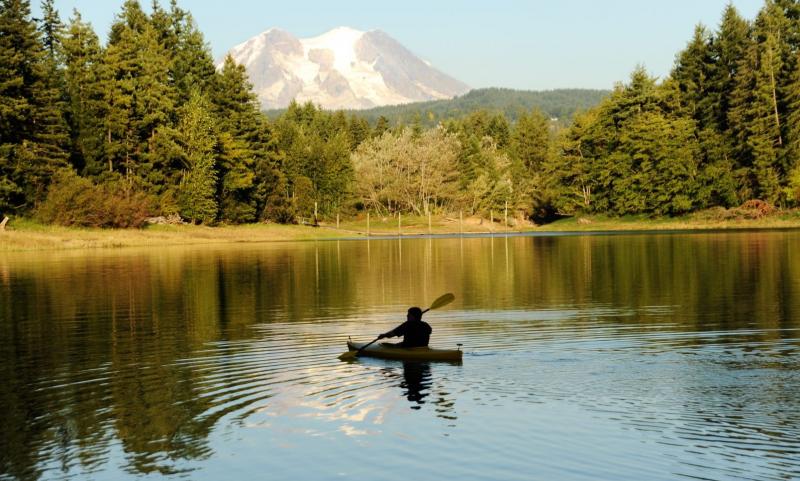 Lake Alder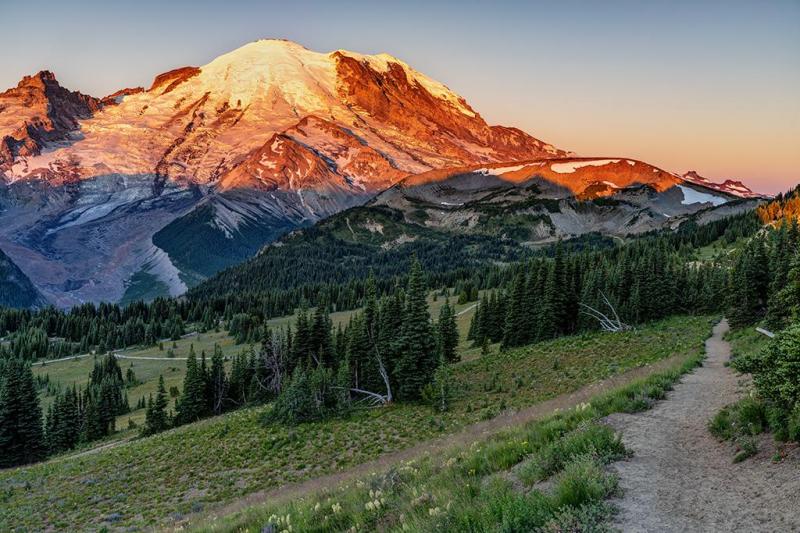 Sunrise at Mt.Rainier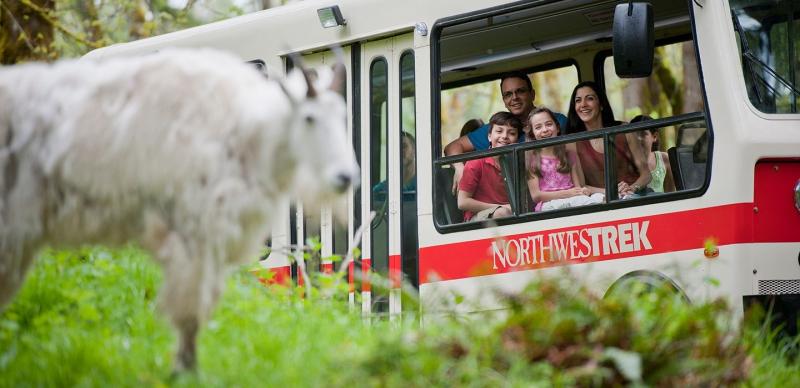 Northwest Trek Wildlife Park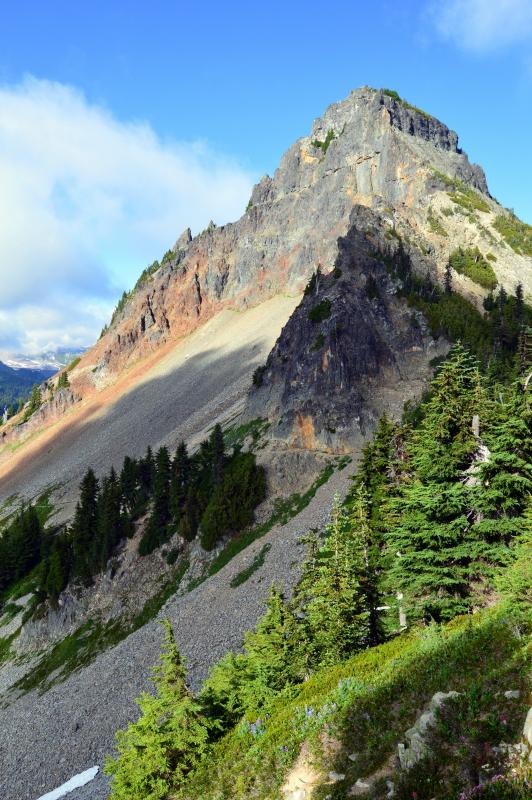 Pinnacle Peak Saddle Trail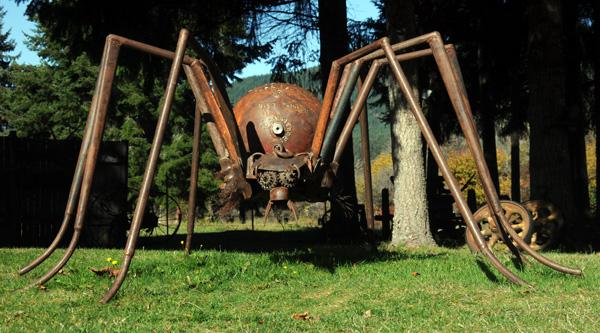 Recycled Spirits of Iron Sculpture Park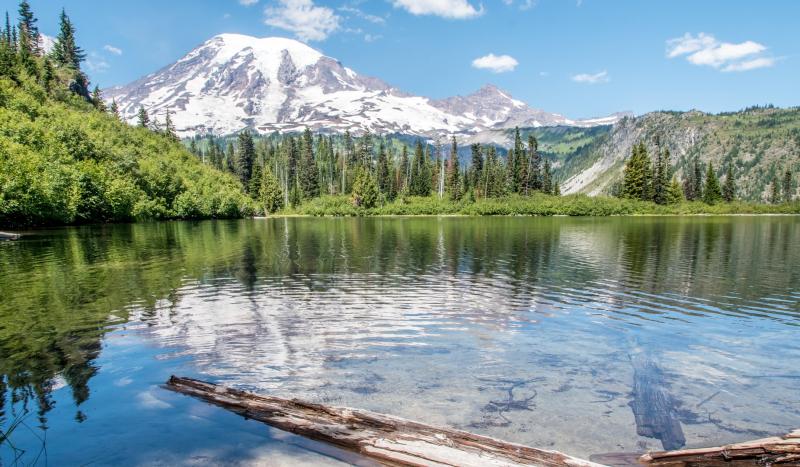 Bench and Snow Lakes Trailhead Hike
Visit Mt. Rainier
Your Mt. Rainier Trip Planner
If you're new to Lakewood or planning a visit to our corner of the country, you've by no doubt noticed the snowcapped peak casting its gaze over our landscape. Most call it Mount Rainier. Washington's Native Tribes refer to the mountain as Tacoma or sometimes Tacobeh, Tahoma, or Pooskaus. Whether you call it Tacoma, Rainier, The Mountain, or simply find yourself declaring "OMG!" every time your eyes catch a glimpse of its glaciers, it's our home away from home. And we want to share it with all of you. Ranier's 14,411-foot spire towers over our city, providing a backdrop for everything that we do. But for many of us, gazing at Rainier from afar isn't enough. We've got to get closer.
Why Visit Mt. Rainier
But maybe you need convincing? Why should you visit Mt. Rainier? Incredible hiking. Wild-flower meadows like you've never seen before. The bravest chipmunks in the world (please, don't fee them). Waterfalls, glacier lakes, we could go on forever. But the biggest reason of all to visit Mt. Rainier is to create outdoor memories that will last a lifetime. This writer still remembers an elementary-age trip to Paradise on Mt. Rainier that involved "sledding" on his windbreaker in the middle of July.
Your Mt. Rainier Itinerary
To get you going in the right direction, we've laid out a fun-filled Northwest Nearcation, a-rockin' 3-day Lakewood and Mount Rainier trip that's simple to plan and easy to love. You'll visit Mt. Rainer by day and experience the food, fun, and relaxation of Lakewood each morning and evening. So, grab a friend, the love of your life, or the entire family, pack some activewear and swim gear for the outdoors, warm cover for cool days, sunscreen, snacks, and water, and hit the road with your favorite tunes.
Starting out from Lakewood makes good sense. With spiffy new hotels and a central location just a few miles from one of the main routes up to the mountain, Lakewood is the ideal jump-off spot for your Rainier adventure. We also have family-friendly entertainment options like go-karting at Grand Prix Raceway, plush movie theaters, delicious food, walkable shopping, historic landmarks, award-winning golf, and lakeside relaxation to round out your visit to Mt. Rainier.
If you're planning a day trip to Mount Rainier, you can skip ahead to day-2 of our Mt. Rainier travel guide.
Mt. Rainier Visit: Day 1
Breakfast: Our Mt. Rainier visit starts right here in town with a slam-bang morning meal from one of Lakewood's finest grub stops. Get rolling early and watch the sun come up over Mount Rainer, all red and gold and creamy-orange, like a fruit-topped sundae melting over the world's largest scoop of vanilla ice cream.
Then check out Moonrise Café, a true original. Fuel up on sweet Belgian Waffles, cheesy scrambles, hearty biscuits with sausage gravy, the super-swell Rise Breakfast Sandwich, or Jeff's Oatmeal and Fruit. Phew…and that's just the beginning. Owners Ian and Katelyn Billingsley have something for everyone. They keep an eye on creativity and quality and serve it all up with a heaping helping of genuine warmth.
Now that we've got a belly full of good eats, let's head on down the road for some outdoor adventure. Just two stops down from Lakewood, duck onto the Pacific Avenue SR7 Parkland/Spanaway exit, and lean right. Believe it or not, from here on out, apart from a little bend in the road when Pacific Avenue becomes Mountain Highway, there isn't a single turn to make the whole way up to Mount Rainier. Talk about simple! Let's shake a tail feather and jump right in. Next stop…some water fun in the sun at Alder Lake.
Alder Lake: A massive reservoir formed in 1945 when the Alder Dam was built over the Nisqually River, this glistening gem happily plays host to endless watersports fun like kayaking and canoeing, SUP, waterskiing, and tubing. Alder's 161-acre park is just the right place to lose several hours perfecting your tan, fishing for kokanee, trout, and largemouth bass, or swimming in fresh mountain water that'll take the edge off any scorching afternoon. Throw a blanket out beneath a tree and catch up on your favorite summer reading. Don't miss the wide selection and friendly service at Lakewood Towne Center's Barnes and Noble. They're always ready to help you find just the right title.
Recycled Spirits of Iron Sculpture Park/Ex-Nihilo: After some time on the lake, we'll step away for a spell and move a bit closer to Rainier for our next stop. While many things are labeled one-of-a-kind, few of them truly deserve the title. This stop happens to be one of those rare treasures. On-site resident and artist Dan Klennert's admission-free, self-guided creation is a labor of love and passion. Built piece by piece over several years from scrap iron, machine parts, driftwood, and more, his complex creations inspire our own creativity, ignite our imagination, and bring us laughter with their humor and whimsical spirit.
Spend a few hours wandering through the maze of iron-clad jazz musicians, circus animals, massive spiders, and steam-punk-inspired vehicles. Gaze upon giants and elegant driftwood horses frozen in time. Don't forget that Dan offers this exhibit free of charge, but donations are greatly appreciated. Come enjoy some of the coolest art you'll ever see, a Northwest favorite known and loved by visitors from around the world.
Dinner and a Movie: After a day of sun-drenched fun in the water and time discovering unique PNW artwork, we'll head back to Lakewood for some great food, a good flick, and a restful night's sleep. On your way home, stop off at Marzano Italian Restaurant for some of the best Italian food around. Technically still in Tacoma, this lovely spot lies just on the edge of Lakewood and right around the corner from the beautiful Pacific Lutheran University campus and serves up a host of appetizers, fresh pasta dishes, authentic, regional favorites, and fine wines to go with any meal.
For a more casual experience, hit up Hops n' Drops on Main Street in Lakewood. Grab a cold brew while you chomp down on big-time quesadillas, Smoked Pork Rib Tips, and Fries, the Jalapeño Cream Cheeseburger, Buffalo Bacon Chicken Mac n' Cheese, or golden-fried Alaskan Cod and Chips.
Next up and super close to Hops n' Drops, take in a movie at the AMC Lakewood Mall 12 cinema. You'll feel like a kid again watching a blockbuster from your oversized red reclining chair while you munch on piles of rich, buttery popcorn, classic candies, and ice-cold soft drinks.
After a full day of food, fun, and sun, you'll have it made in the shade as you ease into a peaceful night of sleep at TownePlace Suites by Marriot, Holiday Inn Express Hotel & Suites, Days Inn by Wyndham, or Woodspring Suites. Choose from a range of comfortable rooms and amenities designed to meet all your needs. Relax, stretch your legs and rest easy in some of the best accommodations Lakewood has to offer.
For something truly unique, book a few nights in the world-famous Thornwood Castle. This impressive 27,000 square-foot, Tudor Gothic mansion was built partially from pieces purchased from a 400-year-old Elizabethan manor in England. Thornwood has stood on the shores of American Lake for more than a hundred years and served as a key location in several movies and television shows. Let your worries float away as you wander through 4 acres of old-growth fir trees, elegant gardens, statues, incredible architecture, and a private lakefront beach.
Mt. Rainier Trip: Day 2 (AKA Mt. Rainier Day Trip)
Day 2 of our Mt. Rainier Travel Guide gets you up close and personal with the mountain. If you're just planning a day trip to Mt. Rainier, this is probably your best itinerary.
Breakfast: When morning comes, linger a while for a satisfying breakfast at your hotel of choice or zip on over to an old Lakewood favorite, Burs Restaurant, for a memorable morning feast. Don't miss Bur's Famous Waffle with strawberries. Dive into the Bigfoot and Eggs, a hearty 11oz chicken-fried steak with country gravy. Reach for the Wrecked Eggs, piled high with fresh toppings and cheesy goodness. Or just grab a mountain-sized stack of pancakes and some piping hot, fresh coffee. Next stop…Paradise.
Paradise - Hikes and History: Grab another cup of coffee for the road because we're going to climb a bit closer to the clouds for our next destination. This time, you'll take the same easy route you took to get to Alder Lake, but you'll keep on driving until you reach the entrance to Mount Rainier National Park. Once you flash your temporary or annual National Park Pass (available both online and from Park Service locations) and enter the gate, what awaits you is one of the most beautiful, scenic drives in the world. The sometimes winding and woodsy, sometimes open and airy stretch of road invites you to breathe deeply and savor every sight and sound that Mount Rainier affords.
You'll climb ever higher as you pass by rushing rivers and ancient basalt cliffs. Drive beside endless vistas looking out across the Cascade Range and catch your breath as your heart skips a beat, when you suddenly find yourself among vast meadows rich in wildflowers and sub-alpine conifer, with Mount Rainier standing proudly above it all, beckoning you to drive onward.
Resting about a mile up on Mount Rainier, Paradise is one of our region's most scenic destinations. With its countless hikes, easier walking trails, Rainier summit ascent routes, history, food, lodging, and stunning views, it remains the go-to choice for mountain explorers of all ages. Try to get there a bit early. There's plenty of parking but it's a favorite spot for lots of folks, especially on clear days.
Nest up on our Mt. Rainier itinerary, step inside Paradise Inn and relax a while with a cool beverage in the impressive main lobby, set high and bold with its massive, exposed log columns. Opened for business for the first time on July 1st, 1917, Paradise Inn, with its classic timber frame design and gabled roof, was created by Tacoma architect Frederick Heathe and features superb woodworking by German carpenter Hans Fraehnke.
Marrying no-nonsense simplicity with a wilderness elegance, Paradise Inn stands as one of the most respected lodgings within our National Park system. Spend some time wandering its halls and take in the rich history and nostalgia found in both its architecture and its many black-and-white photographs. Now that we've had time to rest, let's hit the trails for some of Rainier's best hiking.
Paradise Area Trails: With over 260 miles of professionally maintained trails within the park, Mount Rainier offers something for every age and skill level. For a rugged adventure, more experienced hikers or those just wanting a good workout will love Pinnacle Peak Saddle or Skyline Loop.
East of Paradise, just off the Stevens Canyon Road, scoot your caboose up the short but rugged 2.5-mile out and back Pinnacle Peak Saddle Trail. Beginning with a gradual ascent, it quickly makes a steep climb toward the saddle at 5920 feet in the sky. You'll be huffing and puffing but so glad you made the trip when you're taking in panoramic views that seem to stretch on forever, all crowned by the Cascades finest jewels, Mount Rainier, Mount Adams, Mount St. Helens, and Oregon's Mount Hood.
You can also try the Skyline Loop trail, which is only a short walk from the Jackson Memorial Visitor Center at Paradise. You'll really dig this 5.5-mile, 4.5-hour trip that climbs its way up 1700 feet through alpine meadows blanketed in wildflowers, just bursting with life and color. Take in amazing, close-up views of Rainier's Nisqually Glacier and the Cascade ridges beyond.
For a low-key but gorgeous hike, make a short trip back down the road to the Bench and Snow Lakes trailhead. There's plenty of parking near beautiful Bench Lake. This 2.6 mile round trip trek moves up and down through meadows, lovely tree-cover, diverse local flora, waterfalls, and eventually to the iconic Snow Lake.
Owing its existence to Unicorn Creek, itself formed by snowmelt from Unicorn Peak above, Snow Lake is tap-water clear, shining in blue-green highlights beneath the spires and cliffs that surround it on three sides. If it's super-hot when you go, and you're brave enough, you can dip your toes in or go for a single dunk. But we recommend no more than a few seconds. Snow Lake is so cold that blocks of ice can be seen floating on its surface well into summer.
Relaxing in Paradise: If you find yourself instead wanting to make it a lazy day, stay back at the lodge. Stroll over to the Henry M. Jackson Memorial Visitor Center and take in some Mount Rainier and Cascades history with a host of educational resources, a gift shop, and on-site refreshments.
Then meander peacefully on one of several easier pathways, many of them partially paved, that wind their way throughout Paradise. You don't have to go far or push it to the limit to experience the majesty of Mount Rainier. On clear days you'll have tremendous views of the mountain, peaceful waterfalls, seasonal flowers, and local wildlife.
Dinner in Lakewood: You'll be ready for a great meal when you get back to town. To satisfy your need to feed, slide on over to local favorite Bruno's European Restaurant on Bridgeport Way. Dive into a plate of Homestyle Meatloaf. Conquer a Kielbasa with spicy mustard. Savor Bruno's Schnitzel, Beef Roulade or crispy Potato Pancakes. Or just grab a classic Reuben Sandwich. No matter which way you go, you'll be in good hands. You can count on Bruno for lip-smacking good food and a warm, inviting atmosphere.
Other great dinner choices include The Ram Restaurant and Brewery, with their award-winning house-made beers and mountainous burgers, or Yen Ching, serving up some of the best Mandarin and Szechuan fare you'll ever try.
Mt. Rainier Visit: Day 3
Northwest Trek or Crystal Mountain and Grove of the Patriarchs
After another restful evening and satisfying continental breakfast at one of Lakewood's best hotels, we'll head out for one more day of fun. We've got a couple of options for the last day of our Nearcation.
If you'd like to take it easy and keep it mellow, take 512 to 410 and head up toward Chinook Pass to Crystal Mountain. Take a leisurely stroll as you soak in miles of scenery. Then hop on the Mount Rainier Gondola and let it whisk you up 2400 vertical feet to the summit of Crystal Mountain. You'll ride comfortably above green valleys and snow-kissed peaks in this short but exciting flight toward one of the Northwest's finest Mount Rainier viewpoints.
After our flight through the heavens, we'll skedaddle over to Steven's Canyon Road and wind our way down through lush forests, skirting by Reflection Lakes, and eventually arrive at the beautiful Ohanapecosh River and one of the rarest and boldest sights in America, The Grove of the Patriarchs.
An easy, level trail, much of it covered in wooden decking, this relaxing walk wraps around some of the largest and oldest trees in the country. Cross a pedestrian bridge over the river to this ancient island of Western Hemlock, Douglas Fir, and Western Red Cedar, some of them standing for more than a thousand years, many of them reaching 25 feet in circumference, and a few, carrying trunks as great as 50 feet around.
This miracle of nature is said to have survived forest fires all this time because of its unique location surrounded by the safe, protective arms of the Ohanapecosh River. It is truly a sacred place and a testament to the resilience, strength, and importance of our Washington forests. You can also explore the Silver Falls Trail near the Grove for excellent river and forest sights.
If you still crave a touch of adventure, save the ancient trees and gondola ride for another visit. When you leave Lakewood, head out once again from 512 and Pacific Avenue and set your sights on Washington-favorite Northwest Trek Wildlife Park near Eatonville.
This is one place where you'll love spending the whole day. A mix of walkable trails and guided tours open your family to a world of diverse wildlife. You can spot American Bison, elk, Red-Tailed Deer, cougar, beavers, soaring eagles, lynx, Grey Wolves, Trumpeter Swans, foxes, and so many other critters.
For a walk on the wild side, test your fitness and bravery at Zip Wild, the park's own zip line experience. Climb, crawl, jump and soar through five unique courses all cradled by a breathtaking forest canopy. Just be ready for a good challenge and some serious fun.
Trails, tours, and zip lines are subject to seasonal closures and COVID restrictions. Refer to the website before you make travel plans.
As incredible as this trip may have been, it's only a fraction of what our mountain has to offer. There's so much to discover about Mount Rainier. You could spend every weekend for a year on its trails, atop its peaks, beneath the shade of its trees, and along its highways and never come close to seeing and savoring it all. But there's no time like the present to start exploring all that Rainier has generously given to us. And Lakewood is the perfect launchpad for your mission to The Mountain.
Links and contacts
+
Information and contact for all amenities, dining, lodging, and exploration for Lakewood and Rainier destinations can be found below.
Lodging
Thornwood Castle
8601 N Thorne Ln SW
Lakewood, WA 98498
253.584.4393
Visit online here
Towneplace Suites by Marriot Tacoma-Lakewood
11725 Pacific Hwy SW
Lakewood, WA 98455
253.582.1055
Visit online here
Holiday Inn Express Hotel & Suites
11751 Pacific Hwy SW
Lakewood, WA 98499
253.582.7000
Visit online here
Days Inn by Wyndam
9325 South Tacoma Way
Lakewood, WA 98499
253.292.2872
Visit online here
Woodspring Suites
11329 Pacific Hwy SW
Lakewood, WA 98499
253.215.4547
Visit online here
Dining
Moon Rise Café
6020 Main St SW suite l
Lakewood, WA 98499
253.983.9999
Visit online here
Burs Restaurant
6151 Steilacoom Blvd SW
Lakewood, WA 98499
253.588.4844
Visit online here
Marzano Italian Restaurant
516 Garfield St S.
Tacoma, WA 98444
253.537.4191
Visit online here
Hops n' Drops
5821 Main St SW
Lakewood, WA 98499
253.267.0429
Visit online here
Bruno's European Restaurant
10902 Bridgeport Way SW
Lakewood, WA 98499
253.719.7181
Visit online here
Yen Ching Restaurant
8765 S Tacoma Way
Lakewood, WA 98499
253.582.3400
Visit online here
The Ram Restaurant & Brewery
10019 59th Ave SW
Lakewood, WA 98499
253.584.3191
Visit online here
Entertainment & Shopping
AMC Lakewood Mall 12 Cinema
5721 Main St SW
Lakewood, WA 98499
253.581.5351
Visit online here
Barnes & Noble Lakewood
Lakewood Mall, 5711 Main St SW
Lakewood, WA 98499
253.983.0852
Visit online here
Rainier Area Destinations
Mount Rainier National Park
55210 238th Avenue East
Ashford, WA 98304
Visit online here
(360) 569-2211
National Park passes
https://www.nps.gov/planyourvisit/passes.htm
Paradise Inn & Henry M. Jackson Memorial Visitor Center
Paradise Rd E,
Ashford, WA 98304
Paradise Inn: 360-569-2275 or 855-755-2275
Jackson Memorial Visitor Center: 360.569.6571
Hiking Trails
Washington Trails Association at https://www.wta.org/
Grove of the Patriarchs
Eastside Trail
Packwood, WA 98361
206.625.1367
https://www.wta.org/go-hiking/hikes/grove-of-the-patriarchs
Northwest Trek Wildlife Park
11610 Trek Dr E.
Eatonville, WA 98328
360.832.6117
Visit online here
Crystal Mountain (Scenic Gondola Rides)
33914 Crystal Mountain Blvd
Enumclaw, WA 98022
360.663.3050
Visit online here
Alder Lake Park
50324 School Rd
Eatonville, WA 98328
360.569.2778
Visit online here
Recycled Spirits of Iron Sculpture Park
22410 WA-706
Ashford, WA 98304
Visit Daniel Klennert's artist page here
Frequently Asked Questions
Best time to visit Mt. Rainier
+
When to visit Mt. Rainier
The warm weather months of July and August are the best times to visit Mt. Rainier. Wild flowers will most likely be in bloom. Your likely to get the best weather. And most importantly, snow pack will have melted allowing you full access to the mountain's gorgeous trails.
Mt. Rainier National Park Hours
+
The standard hours for Mount Rainier National Park are easy: it is open 24 hrs daily. However, there are some exceptions to note: While the park is open all year, many facilities and roads are only open seasonally and close in the winter. Be sure to check the road status as you plan your visit.
Park entrances Nisqually and Carbon River are open 24/7 year-round regardless of national holidays. However, entrances like the SR 410/North Entrance, SR123/Ohanapecosh, Stevens Canyon, Chinook, and White River may experience closures on holidays such as New Year's Day (Jan 1), Martin Luther King Jr. Day (Jan 18), Washington's Birthday (Feb 15), Memorial Day (May 31), Independence Day (July 4), Labor Day (Sept 6), Columbus Day (Oct 11), Veterans Day (Nov 11), Thanksgiving (Nov 25), Christmas Day (Dec 25).
There are also seasonal closures to be aware of. From November 12-May 27, the SR 410/North Entrance, SR123/Ohanapecosh, and Chinook entrances are closed. From September 14-May 28 the Stevens Canyon entrance is closed, and from November 7-May 27 the White River entrance will be closed.
Please be aware of these seasonal and holiday closures as you plan your trip, but rest assured knowing that at least a few entrances will always be available to provide access to the beautiful Mt.Rainier Park. For more information, visit the National Park Website.